Bert von Garrel new European Head of Signifi Solutions Inc. and Managing Director Signifi Germany.
Hamburg, Germany - Signifi Solutions Inc. from Canada continues to invest in further growth in Germany and Europe.
Effective June 1, Bert von Garrel (50) has taken over the new role as Head of Sales & Operations, Signifi Solutions Europe. This goes hand in hand with the foundation of Signifi Germany GmbH, which he will simultaneously lead as Managing Director for the German-speaking market.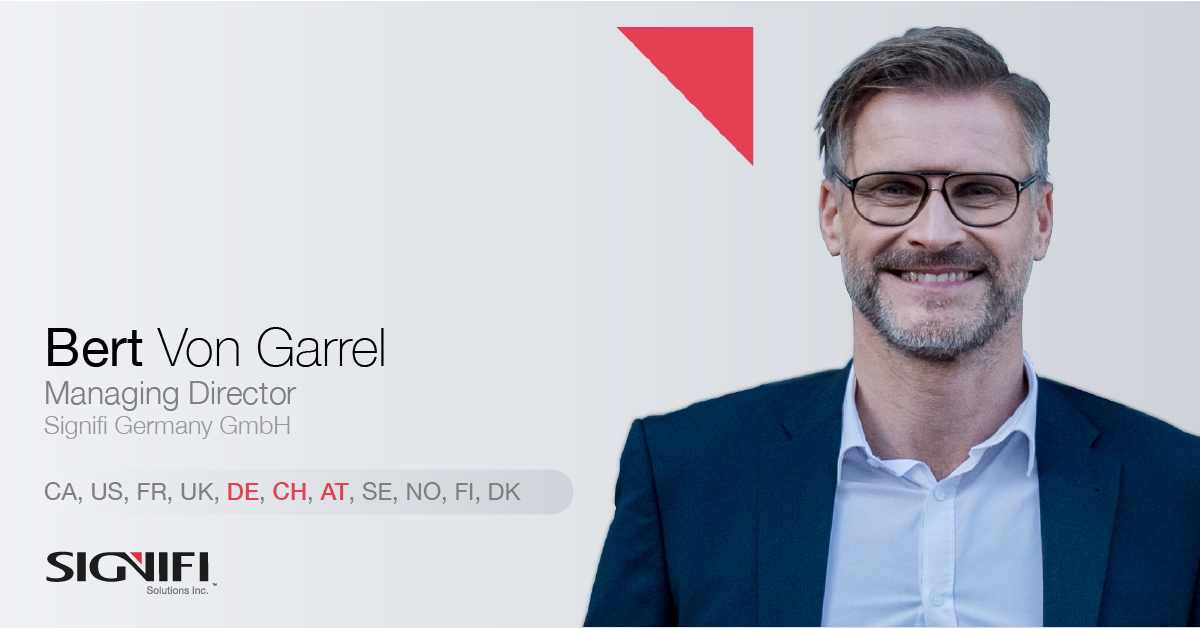 The world's leading provider of intelligent solutions for automated retail, automated IT asset management, and Smart Locker is thus consistently following the path of success of its products also with well-known companies in Europe. For instance, Signifi has provided solutions for reputable clients such as Urbanista, BMW, Roche, and Tetra Pak.
With Bert von Garrel from Hamburg, a manager with an international background and many years of experience in the field of IT management, its solutions and sales are taking over the task. Together with his European team in Scandinavia, France, and the UK, he will be available to existing and future customers as a direct contact person from selection to implementation and ongoing support.
Prior to joining Signifi Solutions, Bert von Garrel was Managing Director of ESN, a software and consulting company in the energy industry. Prior to that, he was responsible for the E.ON Group's innovation center for customer solutions in the area of digital products in both B2C and B2B for several years.
Thanks to his many years of experience in management positions in large parts of the E.ON Group's IT, he is very familiar with both the cultural subtleties and the technical content and processes of his customers.
He has served as Managing Director of IT in Sweden and the Netherlands and was responsible for the CIO teams in Italy, Spain, France, and Benelux.
Bert von Garrel will thus contribute his many years of international experience in the product and solutions business and in the digital transformation of IT processes in this strategically most important growth market for the company.
"I am very much looking forward to this renewed international assignment, in which I will also be personally responsible for the strong German market," said Bert von Garrel. "Signifi has already made great progress with its outstanding products and offers its customers a superior combination of unique user experience and the possibility to reduce process costs through full integration into logistics and IT service processes. And because such features are compatible with any of our solutions, we attract a plethora of different markets such as retailers looking for BOPIS, I.T Departments looking for ITAM solutions, Condos/Offices looking for Secure Parcel Deliveries, etc."
"We also expect that the ability to support customers and employees contactlessly and 24/7, even in distributed locations, will become increasingly important for many companies in a period during and even after the COVID pandemic.", he closes.
Shamira Jaffer, President, and CEO of Signifi Solutions Inc. says: "I look forward to working with Bert on the challenge of further strengthening our position as an innovation leader and driving the adoption of intelligent and automated systems in this important market. We know that this would not be possible without his decade's worth of profound knowledge and experience. "

If you like to talk to us about an automated retail, asset management or loss prevention solution, contact us here.