Employees love hybrid work arrangements — and now that they've had a taste of it, they're not looking back.
As of 2023, pandemic restrictions have lifted, yet hybrid work has continued to grow, with surveys showing three-quarters or as many as 84% of workplaces have adopted some form of it, at least in the United States. (Earlier, one year into the pandemic, McKinsey reported that half of U.S. office employees wanted to work from home three or more days a week once it was possible to do so — a prediction that has generally held true.)
Why give employees their "own" desks when they will only use them part of the time? By eliminating the "one desk per employee," rule, the hot-desking system reduced the space required for working and therefore, the cost to employers.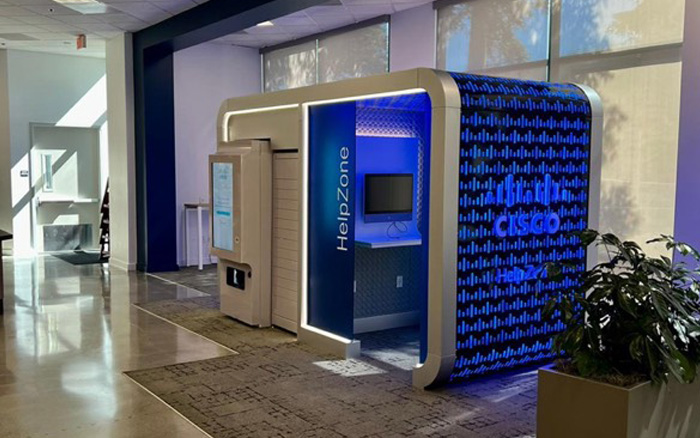 The shift to remote and hybrid work models tends to disrupt older, established ways of doing things. The pace of that change is accelerating creating a new challenge for I.T. departments: how does one efficiently provide physical assets to new and existing employees, who come and go, often on unpredictable schedules. As IT professionals grappled with these questions, they introduced new solutions including self-serve smart locker systems and other automated hardware as a solid long-term solution.
The following explains how IT departments have used a combination of automated kiosks to dispense I.T. assets, Smart lockers for pick up and drop off, and Tech Express Desks to enable face-to-face IT support. These solutions are built on the Signifi Vision platform that integrates with Servicenow, Remedy and other workflow systems. — enabling an automated end to end process that supports the I.T. staff while empowering the employees to get what they need regardless of their work schedule.
Signifi's technology allows organizations to create a tech hub where employees can collect new laptops, phones, loaners, peripherals and dispose e-waste. Coordinating with the enterprise workflow system, employees can check items in and out as needed 24/7. The I.T. organization retains control of access, budget and inventory through this integrated solution, no longer wasting time mundane tasks of delivering equipment.
other benefits to automated solutions include: Security and traceability of IT assets, increased productivity by limiting end-user downtime, tracking of IT peripheral spend, Data-driven decisions around procurement, IT labor spent on peripheral-related service issues as well, fills the void with regards to remote working environments
The key points to consider when selecting a technology partner:
1. The solution is secure and will not pose risk to the organization.
- Signifi is SOC 2 compliant and has stringent security processes
2. Certified and ADA compliant Hardware,
- Signifi hardware is UL, CSA, C.E. and has CB global certification and is ADA compliant
3. Global delivery, white glove and after sales services
Signifi provided end to end services delivery and offers 24/7 monitoring and support.
4. Enterprise level software that is well integrated with the hardware
-Signifi is a North American software company with full engineering and manufacturing facility.
The strategic value of investing in Automation
Allows I.T. professionals to focus on higher priority tasks that have the most impact on the organization and the employee.
Contact Signifi to learn about the solutions we have provided to major enterprises around the world.