Recapping NRF 2023: 3 Big Ideas, 3 Insights & 3 Challenges for Retail
It was a high-pressure time for retail as attendees gathered at the National Retail Federation's annual conference in New York earlier this month: Fresh from the crisis phase of a pandemic, and facing rumours of an impending recession, the estimated 35,000 attendees — some of them representing more than 1,000 exhibitors (including Signifi) — were under more pressure than ever to listen for challenges and opportunities at the same time.
We believe great ideas and smart use of emerging technologies will be the most successful way forward for the retail sector in these hyper-competitive days. Here, then, are three challenges, three trends and three insights that we saw and heard at talks and info sessions at NRF 2023 — all of which validate technology investment for the retail sector.
Three retail challenges we heard about at NRF 2023: Retail's Big Show
There's no shortage of structural challenges for retailers in the 2020s, and Walmart CEO John Furner identified at least three big ones in his opening remarks: the lingering effects of the pandemic, inflation, and combating organized retail crime.
To deal with first things first, attendees heard how lockdowns and factory and logistic shutdowns in China — which have only recently begun to subside — are still snarling supply chains.
A second, related challenge is just as difficult for retailers to deal with: rising supplier prices.
Because these twin problems stem from external problems that are global in scope, it can be difficult to see how individual retailers (even large ones) can contend with them. At Signifi, innovation can at least provide part of the answer, because it can allow you to shift from playing defense to moving with confidence into the future, in just about any headwinds. Finding new ways to deliver for customers — often through technology — not only equips retailers to continue to compete in a tough environment, it's the only solution that leaves them stronger and fit to survive over the long run.
As for the third challenge, organized retail crime, it is possible to imagine concrete solutions that are actionable quickly. For example, automated retail can be a smart way to combat loss prevention, in large part because it doesn't alienate the customer by looking like a loss-prevention strategy.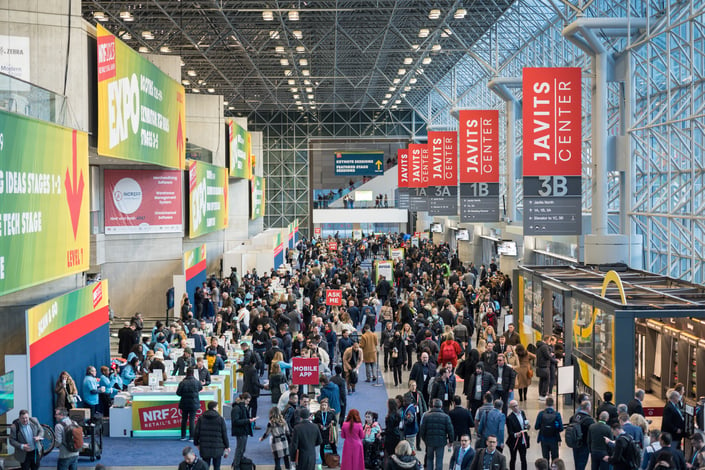 Three trends shaping retail, as discussed at NRF 2023
Manage inventory:

Using big data and even AI to manage inventory and forecast demand is predicted to be a large and growing trend in retail in the coming years,

as we have noted

previously. The desire not to be stuck with old wares is one of the key driving motivations behind it. As

this NRF panel session cleverly put it

, "Excess inventory is so last season."





Enhance the omnichannel customer experience and build loyalty:

As in previous years, "omnichannel" remains a big buzzword in retail. That makes sense: For years there's been a trend in retail toward giving customers an integrated experience across all touchpoints or channels, from mobile to (desktop) web to in-person shopping in traditional and automated formats — in other words, an omnichannel approach.



Then the pandemic kicked the omnichannel trend into high gear, fuelling the need for new technologies (like self-serve kiosks) and emerging and growing use cases (such as "buy online, pick up in store" [BOPIS])

.



As the trend develops, leaders in retail are exploring

and discussing how these technologies can be leveraged to give shoppers personalized service and other loyalty- and engagement-building experiences — including how automated retail units can be key to this kind of customer-centric strategy.
Evolve the role of the brick-and-mortar location

— or the "

modern store experience

," as one session called it. This trend is about

looking beyond the store's role as a point of sale

and embracing all the other innovative ways to use the space: as a platform for acquiring and engaging customers, for example, or repurposing some square footage as a service or logistics hub (

we earlier noted the role that automated vending units and self-serve kiosks can play

in reinventing retail store space as a node for e-commerce delivery).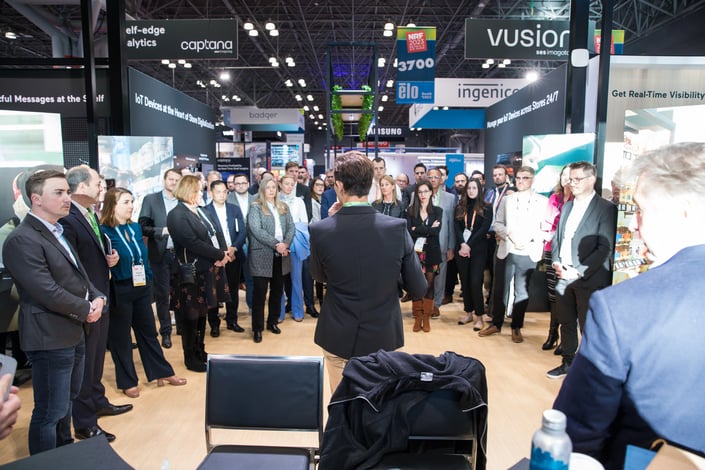 Three insights we heard at NRF 2023
Listening to retail leaders in conversation on the main stage, we caught plenty of pieces of wisdom that would be useful for anyone in the sector to carry with them.
Here are just three of them:
"Every single day, the customer changes."
— Kroeger CEO Rodney McMullen
McMullen was talking about how his industry, grocery retail, has witnessed a profound change in customer habits in recent decades — from once-a-week shopping, aisle by aisle, to shorter and more hurried trips by busy people at all times of the week. It's a trendline that suggests a place for automation — so that customers can shop online and then quickly pick up their orders from smart lockers on the way home.
In the bigger picture, customers have changed in all types of retail environments. And customers who desire the fastest way to shop, pay and go are a common thread — once again, it's another opportunity for automated retail.
"Big changes to big things is how you change trajectories."
— Petco CEO Ron Coughlin
It's the people who bring energy to their company who become future leaders, said Coughlin, who encouraged NRF 2023 attendees to think big and make major changes within their organizations. (A good rule of thumb: If the change you're suggesting makes you and others nervous, you might be on the right track.)
In a landscape that's facing an unprecedented set of challenges and technological opportunities at the same time, that's likely to prove good advice.
"Loyalty in retail is the absence of something better."
— Walmart CEO John Furner
Returning finally to Furner for the last word, innovation and new ideas in retail are all about acknowledging the reality that deep down there's no such thing as unshakable customer loyalty. There's only a never-ending drive to satisfy whatever the market may demand tomorrow — and the day after.
Over the 3 days, the Signifi team had many similar conversations with visitors, customers, partners and retail leaders. We are excited for what's next!
One thing was common - starting 2023 on the perfect high note for retail.