Five Possibilities for Deploying Smart Lockers in Retail
You may be familiar with some of the core capabilities that smart lockers provide to the retail sector: They can facilitate click-and-collect and BOPIS (buy now, pay in store) services, as well as help an organization manage back-of-house hardware assets, including pricey handheld scanning devices.
What about other ways that smart lockers can empower your retail organization to deliver more for your customers, and your bottom line?
Here are ideas and thought-starters for deploying smart lockers at your retail organization:
Smart lockers could enable you to offer 24-hour service, and service outdoors
Smart lockers never sleep, which means they offer customers the freedom to access their items at any time, day or night — and without the need to go through your store's front doors. You could use smart lockers on the exterior of your stores to cater to the needs of customers who want to pick up their purchases outside of normal hours, or simply don't want to enter your location and would prefer a more "curbside-pickup" type of experience.
This kind of accessibility could provide unparalleled convenience for those with busy schedules or unconventional working hours. Customers no longer have to rush to a store before closing time or rearrange their plans to accommodate delivery windows. Instead, they can collect their purchases whenever it suits them best, fostering a seamless and customer-centric retail experience.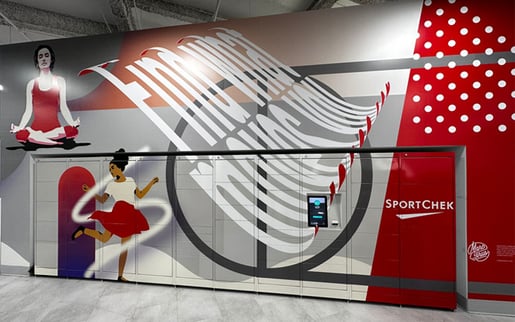 Smart lockers can make returns and exchanges easier
The returns and exchanges process is a crucial aspect of the customer journey — and everyone involved in the transaction wants it to go smoothly. Smart lockers can take some of the headaches out of customer returns, streamlining the experience.
Here's how: Customers can simply drop off their items in designated lockers using the app (log ticket, take pictures of the product & return etc.), thereby eliminating the need to wait in long queue at customer service desk. Retailer employees can then assess all returns as per their returns policy, in one single time (eg: after closing or during inventory check) and then issue online refunds. This accelerated process not only saves time for customers but also reduces the strain on customer service personnel.
Smart lockers can help with loss prevention
Loss prevention has been a hot topic within the retail sector in recent years due to the rising levels of theft, particularly organized theft. In response, retailers are understandably safeguarding some of their most valuable inventory in locked compartments, rather than on the sales floor.
For example, retailers have been placing cards on the sales floor that customers can bring to the cashier to pay for selected high-value items. While this is intended to ensure that the customer doesn't walk away with the item in question, it isn't necessarily the best customer experience: Who wants to wait in line or track down a sales associate with a key to get access to an item?
Smart lockers offer ways to make loss prevention feel less like, well, loss prevention. Imagine: When a customer buys a big-ticket item such as a phone or Bluetooth speaker, she's given a code on her phone to open a corresponding locker in a designated area of your store or just the shelf below the product demo area to retrieve it herself. Only the authorized customer is given a code to access each locker, only the intended recipient can retrieve each item, mitigating the risk of theft or loss. Customer experience at its best!
Smart lockers can facilitate personal experiences and customer rewards
As we noted here, savvy retailers can leverage smart lockers to enhance personalization in retail. Retailers can give preferred customers — collectors of loyalty points, for example — exclusive offers that can be prepared and waiting for them at on-site smart lockers.
For example, a loyal customer has downloaded your app. One day (thanks to geofencing), she receives a notification telling her that she's being rewarded for her visit that day. All she has to do is go to your automated smart lockers and key in the provided code in order to receive her gift.
This kind of personalization not only creates a unique shopping experience but also promotes customer loyalty and engagement.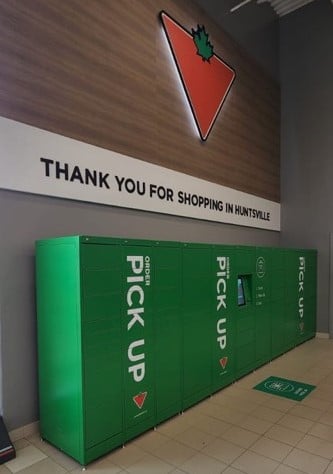 Smart lockers can help create unconventional retail spaces
Smart lockers can be used to create innovative shopping experiences in unconventional environments, where a traditional point-of-sale setup isn't ideal (or even possible).
For instance, a showroom could allow customers to browse products in a store — getting to touch, feel and try them out — while the actual purchase is completed through the smart locker system.
Retailers can also set up temporary "pop-up stores" using smart lockers in high-traffic locations such as malls, music fests, tourist locations etc. Imagine a Signifi smart locker customized with your branding, enticing customers to stop and pick something up for themselves as they pass by.
The point is that smart lockers encourage and enable inventive strategies for innovation in retail. The sector is really just beginning to explore how smart lockers can make a retailer more competitive, efficient and creative — while delivering a better and better experience for customers.
Got a possibility that we can help you turn into reality? Get in touch with Signifi today.