Step into a retail environment and look around you: Everywhere, major players are equipping their sales associates with handheld scanners, tablets and other portable devices — a trend we recently explained.
The rise of associate mobile devices (and other retail sales floor tech assets) creates a new need: systems for retail hardware asset management.
At Signifi, we design our automated solutions so they can seamlessly integrate with the rest of your retail operations. Our goal is to save you from a lot of the time-consuming work that can come with managing, maintaining, and getting the most out of your valuable tech assets.
Read on to learn how you can benefit from Signifi's retail hardware asset management solutions.
Automated lockers so you can manage your devices (check-in and check-out)
Because hardware assets tend to be shared among employees, retailers need systems for allowing them to be passed securely between sales associates — and ideally tracked in real time.
Our high-density lockers, smart drawers and other smart vending solutions help you do that. When employees are finished using a device, they can place it back in a secure unit, where it will await the next user (whenever their shift may begin, 24 hours a day). Optional UV lights can sanitize the equipment between uses. The devices will be charged, too (learn more about that in the next section of this article).
There are multiple authentication options for ensuring that the person checking out the unit is authorized to do so, including PIN codes, RFID-equipped corporate cards, federal government PIVs, QR codes, and NFC. You can talk with us about your existing systems and needs.
A control panel powered by an Intel processor and featuring a premium 15-inch ELO touchscreen creates an enhanced user experience for staff. You can use the screen to communicate with employees.
For managers, our user-friendly asset-tracking dashboard, powered by SignifiVISION, provides live reports and automated notifications. This gives them visibility as well as the tools to ensure equipment is being used productively.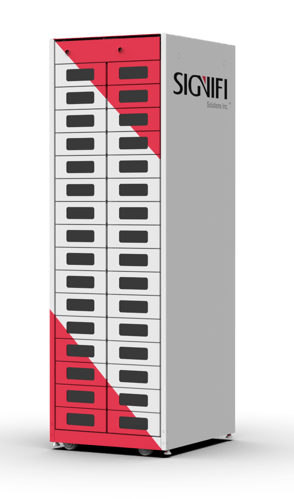 Keep track of repairs and recharging for your retail tech assets
Thanks to the asset dashboard and screen interface, employees can also communicate to managers when a device isn't working properly, so it can be picked up from a locker for troubleshooting and repairs.
Signifi's lockers feature internal charging points, as mentioned earlier — a unique proposition for our industry — so you can recharge handheld devices from a multitude of brands (including Zebra, Honeywell, Symbol, Motorola and others). Optional LEDs light up compartments in different colors to give users and managers visual cues about the status of devices. So when they're needed, devices are charged up and ready to go again.
Speaking of maintenance, our automated units are built to last: Heavy-duty construction makes them durable and straightforward to repair.
Prevent theft through retail hardware asset management
Handheld retail devices are valuable, making them a tempting target for thieves — including theft by employees, unfortunately.
By managing your back-of-house assets using our solutions — including taking advantage of the dashboard for visibility over your inventory of devices — you can minimize loss, theft, and unauthorized use by setting up the platform so it will enforce security and compliance with the rules specific to your organization and industry.
SignifiVISION gives you control over an end-to-end chain of custody. Detailed asset tracking logs create a strong deterrent to would-be thieves. And on the most basic level, controlling access to devices using a smart locker makes sure they only end up in the hands they're supposed to be in.
Getting started with Signifi and our retail asset management solutions
Our systems are modular and easy to (re)configurate. So you can shape them according to your needs — and your space. (Every retail manager appreciates a tidy, efficient back room.)
A variety of form factors allows you to maximize space utilization, with sizes ranging from a few small drawers to high-density, small-footprint lockers with 64 compartments.
So if you need a customized retail hardware asset management solution to seize the opportunity that handheld technologies bring to the sales floor, we can make it happen.
Get in touch with Signifi to talk about how we can help your organization.