Why are handheld scanners, tablets and other portable devices quickly becoming a must-have for the retail sector?
Because these devices offer something for everyone: They empower employees to communicate and seek information wherever they are on the sales floor. For managers, they improve the reliability of inventory data. And they make stock and price checks a snap, which enhances the customer experience.
No wonder decision-makers in retail say they're going to be putting more devices in the hands of sales associates. More than 70% of retailers said in fall 2022 that they've already equipped sales associates with mobile technology, and another 11% plan to. Most industry observers expect the use of associate mobile devices will continue to grow. And according to a survey by WorkForce Software, it's the largest retailers that are driving adoption of mobile devices for employees, with 90% of them assigning "high value" to tools that allow communication between sales employees.
For anyone looking to join the wave now, take note of an important lesson that a lot of other organizations already learned the hard way: Retail Asset Management is important. To avoid certain pitfalls, you need a comprehensive plan for managing these expensive devices as part of your rollout strategy.
Read on to learn how Signifi can help:
Back-of-House Retail Assets: The Challenges
Handheld RFID scanners, barcode scanners, and other "Back-of-House" tech assets need to be managed and maintained. They're vulnerable to theft, loss and breakage. And they are costly to replace.
The CEO of a company that deals in handheld devices for store associates told RetailWire that 30% of these units are unavailable at any given time on average, due to damage or theft — or they're simply not charged and ready.
And note that the theft in question is often employee theft. Scanners can be worth a tempting amount of money when resold. This means you need a loss prevention strategy for the back of the house, not just the sales floor.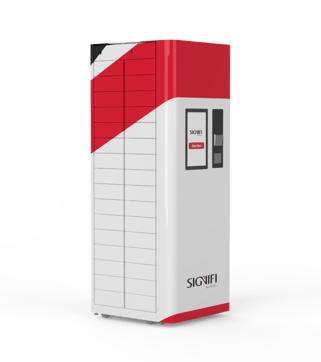 Signifi's Solution for Retail Asset Management
Our back-of-house high density smart lockers for retail tech assets help you keep track of mobile scanners for inventory and sale, headsets, tablets and other valuable items that sales associates check out and use — and which you don't want to lose.
Our units offer transparent doors, so you can see at a glance what assets are available. At the same time, Signifi's Vision software platform helps you track the scanners in real time (which helps prevent theft as well as making the units easier to manage).
Signifi's smart lockers for retail asset management also have internal charging points — a breakthrough feature for the industry.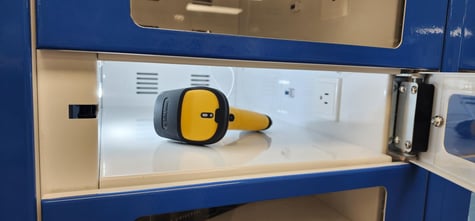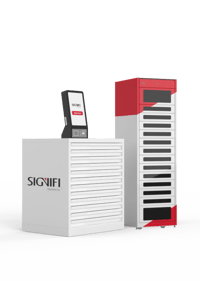 So, with our help, you'll be able to keep track of your devices through a centralized software platform: You'll know which ones are checked out and in use (and when they were checked out), which units are due back, and the charging status for any that are docked.
If you want to unlock the potential of handheld technology on the sales floor — while also ensuring there's accountability and a loss prevention element to your plan — get in touch with Signifi.
Let's talk about how we can help you.