Signifi releases PPE Dispensing & UV Locker Solutions for workplaces
As the post-pandemic phase begins, many employers are exploring hybrid and back-to-office options to restore a sense of a work community. How we go back to work has changed drastically, and companies are gearing up to reopen their doors. Employees will return to the workplace, expecting leadership teams have taken the necessary steps to make their building or office environment safe and sanitized. That brings us to the real challenges of working in a modern office post-covid.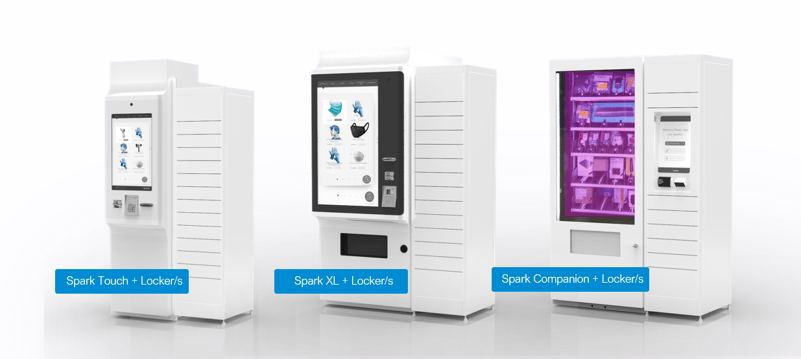 Employees will expect easy access to PPE at all times. It is necessary to make employees feel safe upon returning to the workplace, and our vending solutions make it possible with ease. We have designed and manufactured new units to dispense PPE within work environments such as offices. Because our units are built to be stocked with various shaped goods, there's no need to worry about custom packaging for protective gear such as masks, gloves and hand sanitizers. Our software controls dispensed amount, so tracking PPE inventory is covered.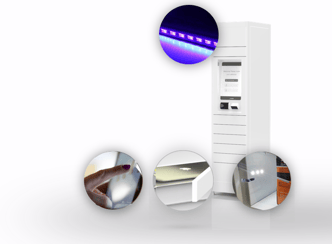 To provide a safer environment, we also fit our dispensing units with disinfecting UV Light lockers that sanitize personal items such as reusable masks, laptops, and cellphones. Once a locker is selected through our user interface, it opens up automatically to reduce excess contact. Employees then place their items within the locker and wait 30-45 seconds for the lights' wavelengths to eradicate any bacteria or viruses on their belongings. And once the cycle is over, the locker will open up automatically to maximize safety and convenience.
Our advanced features functions using our powerful software known as "VISION". Along with controlling the unit, this platform can oversee project management and analytical reporting. Furthermore, it can be integrated with ITSM and ERP, allowing the unit to dispense equipment or open lockers with just the tap of the employee ID.
Our new product, Signifi Screen Safe, is a liquid nano-protective coating that can be applied on all touch screens to act as an antibacterial barrier. Lasting around 30 days (depending on traffic volume), this coating will further increase the peace of mind of those returning workers.
What's unique about Signifi's Smart Locker and PPE Vending Solutions?
Unlike our competitors, the lockers and the vending machine come together and are operated by one unified system and screen. Vending + Locker solutions are embodied within models such as our Spark Touch, Spark XL, and Spark Companion. Other features and benefits of these models include the following:
Large product capacity that also requires no special packaging for PPE

A customizable exterior to represent any brand

Internal cameras to provide remote support that can solve 90% of service calls and increase machine uptime

Durable belts are used instead of faulty coil systems to improve user satisfaction and performance

In-locker options such as phone chargers and network access for laptops are also available
In conclusion, our unit will ensure that you have taken necessary action toward your employees' health and safety as part back-to-work strategy. Contact us today