From Automated Retail Stores to A.I Fridges, Automation is Streamlining The Airport Experience
As the travel industry gathers for the 2023 edition of the Airport Experience Conference (AXC) in Denver, Colorado, pandemic-weary travelers are arriving at airports with high demands for speed and convenience. Companies that deliver those experiences are also working within a sector where nothing is predictable except change.
The sector is evolving as it recovers from turbulence in the first part of this decade. What will be the way forward? Technology holds a lot of the answers; automation and A.I. machine learning have sparked interest from experts and insiders as emerging responses to the pressures the travel industry faces.
Signifi is among the leading companies helping organizations harness automation to deliver a more streamlined airport experience for travelers and retailers, and we will be on hand at AXC 2023 demonstrating these technologies.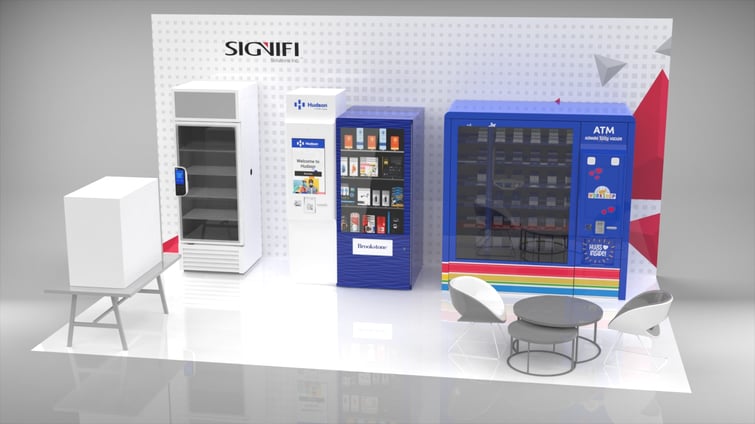 Here are three ways automation and other advanced technologies pointing the way forward for the airport sector — and some relevant solutions we will demonstrate and provide.
Automated retail brings tactical sales advantages
First, investments in technology gives companies a host of tactical sales advantages, providing more ways to serve customers. As the COO of Hudson News told Forbes, "This type of retailing gives travelers greater access to a variety of specialty brands and allows them the convenience of shopping on their own schedules. For airports, it provides incremental revenue opportunities, often leveraging unused space."
These insights hold true both for retailers, airports and brands that serve customers in an airport setting. The challenge often has been the merchandising and support of these automated stores - and now with more than 40 airports under its belt, Signifi has overcome this challenge.
Promoting well known brands and bringing products where they are easily accessible is another example of an important emerging sales tactic that's increasingly being powered by automation. As an example, Build-A-Bear gives kids (or adults) the ability to collect their own little plush pals while on the go. Now, thanks to Signifi's Elevate automated retail units, they can buy the stuffy of their dreams while waiting for their next flight.
Elevate units are one of our most luxurious automated retail platforms from a customer-experience point of view, and the units have patented intelligence that allows it to hold various sizes and shapes of products without requiring special packaging, from T-shirts to clothing for stuffed toys to small pharmaceutical items and gift cards.
Additionally, side, top and back panels can be removed and exchanged (even in the field) with new or different panels that might have digital signage, backlit lighting or materials. Planogram changes can be made in minutes by a single merchandiser and without requiring tools, paramount at an airport where labor is not easily accessible due to security. While Signifi's interactive HD Touchscreen can be customized to create a recognizable, easy-to-navigate experience for end users, you can add a side panel to maximize your advertising revenue.
Signifi will also be showcasing its A.I. smart fridges and double sided food lockers at the AXC show. The focus of these solutions is towards on-the-go food vending and pick up for travelers that require convenience and speed. Both these solutions represent newer technologies that are reliable and next-gen. The focus on the design of these products has been on customer experience, serviceability and flexibility for the vendor.
Visit Signifi at AXC 2023 to understand the seamless vending capabilities of our Elevate units — and experience what it's like to get a bear of your own.
Powering an AI strategy for airport retail
On a strategic level, AI-enabling technologies like smart kiosks are helping the travel sector gain insights and adapt in a shifting environment.
As the COO of Airlines Reporting Corporation (ARC) told Skift, "While travel used to follow a year-in, year-out seasonality pattern, the pandemic has taught us that's not necessarily the case all the time. The data is helping the entire ecosystem understand the changes that are taking place."
What's a machine that can help with data gathering? The Spark system from Signifi, which is engineered for versatility and scalability: The units pair with Spark Control, a software system that allows retailers to manage vending units. Multiple units can be attached to a single Spark Control unit for scaling capacity, creating more flexibility in retail applications. And, more enticingly still, Signifi's cloud-based VISION platform enables real-time reporting and analytics — data-gathering capabilities that make it a potential cornerstone of an AI/machine learning-based strategy.
Automated retail creates a convenient airport experience
Last and perhaps most important, automation technologies are streamlining the experience for travelers — just as they've become more eager than ever to speed along quickly to their destinations. For example, the IATA reports that 85% of passengers want to spend less than 45 minutes on processes like check-in and security at the airport if they are traveling with only hand luggage. They increasingly also want a contactless experience.
To understand how these insights can shape the customer experience of airport retail, imagine a traveler who's hungry but eager to eat something hot as soon and quickly as possible. Traditionally, they have to wait in line to order and pay, then wait as a food service worker packages up their meal.
In an airport equipped with automated vending units for food, on the other hand, passengers can literally just grab the food and go. Signifi's A.I. Smart Fridge allows customers to see and select food, and pay for it using the method of their choice (while the unit feeds data about purchases back to you, once again powering any data-gathering strategy your organization may have).
What's new is that we now also offer self-service options for hot food: Visit us at AXC 2023 to see how a two-sided heated self-serve locker system works. You'll understand how it allows a passenger to zip along to their destination.
As we're sure most of the sector will agree, the future of travel — like the future of many things — is about using technology to save people's time for things that truly matter … like making it to the gate happy and on time.