Urbanista chooses Signifi as their global Automated Retail solution partner
From their unique, city-themed product names such as Paris, New York, or Stockholm, the innovative tech company "Urbanista'' is recognized and appreciated for such devices all over the world, literally. From noise-cancelling wireless in-ear or on-ear headphones and powerful bass-boosted Bluetooth speakers, Urbanista ensures top-notch designs, sound quality, and outstanding battery. With such excellent features and designs, sales through ecommerce did well, but they knew it was time to further evolve how they distribute in order to keep up with the ever-changing world of retail.


"We know how frustrating it is to forget your headphones when you are on the go, so we have been working on the best solution for our customers. We want to offer an autonomous retail solution that delivers audio products to our customers in the most relevant places. "
- Anders Andreen, CEO Urbanista

A critical element they wanted to address was that of customer convenience. By analyzing the latest retail trends, Urbanista made a decision to be where their customers are and to not only increase convenience but to provide last minute shopping opportunities for their unique products.
It's therefore no surprise that they've recently made their distribution more high-tech, timely, and user-friendly by using automated retail machines.
As this project would require both highly advanced hardware to dispense luxury items without causing damage and an integrated software solution to cater for multiple dispensing machines and payment options, they reached out to Signifi, to provide an all in one solution. With their unique Stockholm cityscape branding applied, Signifi shipped and installed the vending solution in the Stockholm City Train station within 6 weeks. All Urbanista had to do was merchandize the system with their beautifully packaged goods and they were ready to trade within days.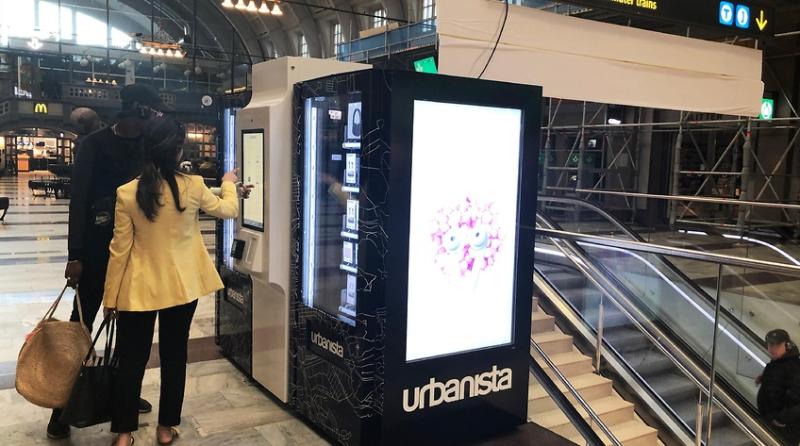 The unit's sizable frame is specifically built to accommodate a great deal of inventory, representing a large store within a small footprint. Urbanista currently operates at Stockholm City Train Station. During summer four additional units will be rolled out in U.S. Airports, with plans to further expand globally. The current high traffic location is receiving more than enough attention to warrant the addition of side screens that offers an Advertising capability both to Urbanista and their partners. Urbanista controls what gets promoted and when. When a customer interacts with this system, the shopping interface will launch, allowing customers to browse products on a dynamic user interface. High definition images and in-depth explanations for each product provides comforting information for any shopper who may be interested. After browsing, a purchase can be made via Card or Apple/Samsung/Google Pay.


This entire process alone eliminates any time that would usually be required conversing with an employee or waiting in-line in regular retail. Once purchased, an elevator compartment raises to one of the shelves where the ordered product is located. The product is then gently pushed onto the platform and is lowered to the dispensing door where the customer can reach in and collect their brand-new device, the whole purchase journey takes only 60 seconds, and it´s open 24/7 without any need of regular store personnel. This patented elevator-based system is designed so the packaging of products would not be limited to a specific shape or size.
It allows Urbanista to provide their unique product range without any package size restrictions. This way, large boxes for on-ear headphones like New York can be sold alongside small in-ear headphones like the Athens, without restricting room for their Bluetooth speakers such as the Sydney. Urbanista's machine is currently located in Sweden, marking another step of innovation and convenience for their users like they have before in the past, and like they will again in the future.

Talk to us today about how we can customize an automated retail for your needs.