The #1 Sure-Fire Way to make your Brand stand out in Retail
Consumers develop a blind spot after scanning shelf after shelf looking for the right product at a department store. It can be difficult for your product to stand out among multiple product lines. That's where automated retail can come to the rescue! Branded retail solutions have the advantage of not only grabbing the customers attention with a sleek design, but showcasing your brand exclusively.
Automated retail solutions can sell a variety of products from games to luxury goods inside its high end vending machines. For example, let's take a look at this Lego machine at the National Retail Federation Big Show in New York City. What's really cool about the Lego machine is that it has a digital screen in the center of it. It features movies and games, social media integration, and it scans QR codes for discounts. It draws a lot of customer attention because you can see the products clearly.
At about 9 feet wide with a glass window, it can showcase larger and smaller items. It's a large storefront automated retail machine. This can customized for smaller spaces to about 5 feet wide. This scalability makes it a great solution for airports, malls, toy stores, big box stores, corporate buildings and many more.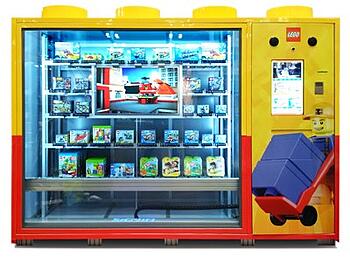 If you think of Lego, it's all about traditional retail, but demand could be higher in non-traditional locations. This solution can be accommodated in any space without restrictions. Legos can be sold in a hotel lobby, for example.
Convenience is a big part of the retail industry. People are pressed for time. Whether you are a parent or a grandparent, you don't have time to make separate trips, park the car, look for offerings, stand in the payment queue to buy a toy for your favorite kid. The automated retail machine is convenient. I see it, I buy it; it's easy.
All this builds a positive brand perception for your customers, which in turn, contributes to your brand recall value. Your brand stands out and also drives revenue through such automated retail solutions with the most minimum investment. Don't lose out on this great opportunity!