Brands are Using Automated Retail Solutions to Create a Buzz and Build Brand Loyalty
Automated retail units are often used for marketing at events as they present an excellent opportunity to collect data and dispense promotional products or samples. With a large interactive touch screen interface, creative marketing firms are able to implement innovative programs. Signifi's retail vending solutions have full integration with social media platforms including Twitter and Facebook, so that products are either discounted or dispensed only when customers perform certain interactions through social media with the brand.
Here are some examples of other automated retail related marketing projects:
MasterCard's latest ad campaign is about "Priceless Surprises". A fully branded automated vending unit dispense a free surprise gift to MasterCard cardholders who tap their MasterCard. These machines are being deployed at different MasterCard partner events throughout North America. Signifi Solutions Inc. a global supplier of automated retail kiosks, collaborated with MasterCard's agency to create an end to end solution.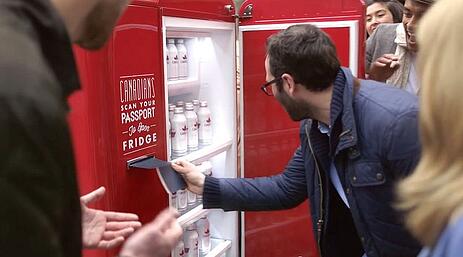 Molson Canadian had an automated beer fridge that only opened with a Canadian passport. (over 5 million views)
Coca-Cola had various vending machines that delivered a free coke in exchange for a hug, teamwork, and even dance moves. (over 10 million views)
Egberts coffee machine has facial recognition software and dispenses a free coffee to anybody that yawns. (just under 500K views)
Consumers can interact with the unit, sign up for samples, connect with social platform and enjoy a unique and fun experience. Customers are more willing to provide information and participate when they interact with a touchscreen and have a chance to get a prize on the spot.The benefits of combining automated retail with social media marketing creates an unforgettable brand experience that is exciting and fun.